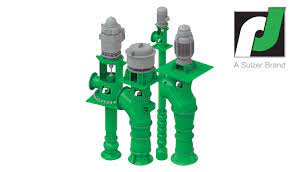 Vertical Turbine Pumps
Also known as deep well pumps or axial flow pumps, vertical turbine pumps are a type of centrifugal pump used to transport fluid from an underground reservoir. These reliable pumps are driven by an above ground or submersible electric motor connected via a long vertical shaft to impellers at the bottom of the pump. Vertical turbine pumps are capable of extremely high flows and pressures for a wide range of applications.
Flo-Line is a proud partner of industry-leading pump manufacturers, including Sulzerand Johnston Pumps. We offer complete engineering design assistance for all applications. Request a quote today or contact a Flo-Line expert for more information regarding our selection of vertical turbine pumps.
Fully Customizable Vertical Turbine Pumps from Johnston
Flo-Line provides Johnston vertical turbine pumps from Sulzer. Johnston pumps are fully customizable with options for open or closed channels, mixed flow, and propeller designs from 6" to 80" (150mm – 2,000mm). Additional features include:
Flow rates from 100 to 270,000 GPM
Pressures up to 930 PSI
Wide array of materials
NSF-61 Certification for drinking water applications
Axial Flow Pumps for Agricultural, Municipal, & Industrial Applications
Johnston vertical turbine pumps can be used in any industry where water or other liquids must be pumped from deep pits or wells. These rugged pumps offer optimal efficiency in a number of applications, including:
Municipal Water Supply
Wastewater Treatment
Agricultural Pumping & Irrigation
Drainage & Flood Control
Mine Water Management
Contact Flo-Line Technology Today for Your Vertical Turbine Pump Needs
Flo-Line Technology is a leading supplier of high quality pumping solutions for all industrial and municipal markets. We work with trusted manufacturers to provide our customers with the reliable, long-lasting pumps they need. Request a quote today to discuss your vertical turbine pump requirements. Call us at (800) 255-2933 to speak to an expert.