Mag Drive Seal-Less Pumps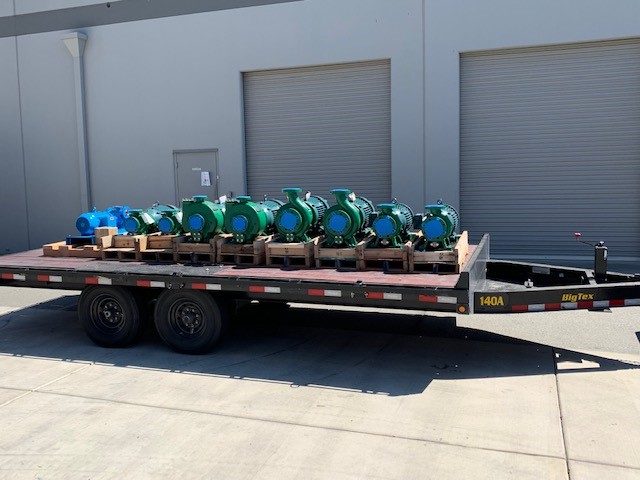 Mag drive seal-less pumps offer leak-free, emission-free solutions for plant managers and process engineers who require reliable and safe pumps for chemical processing and downstream refining applications. Seal-less pumps are easier to maintain and install than traditional pumps due to their closed system designs, making seal-less pumps ideal for applications that involve hazardous, toxic, corrosive and aggressive liquids. Flo-Line carries innovative magnetic drive pump technologies that are designed to perform in the most demanding climates.
Request a quote on the magnetic drive pump you need or contact Flo-Line today and let us handle your fluid pumping concerns.
Magnetic Drive Sealless Pump Features
Sundayne's Ansimag Series
Sundyne's Ansimag Series is designed for plant managers and chemical process engineers, offering an ideal solution for pumping caustic substances, acids, and solvents.
ANSI Certified
10-1,400 GPM, 500 ft TDH, 250°F
Non-metallic (ETFE, PFA)
Sundayne's Kontro Series
Sundyne's Kontro Series is for high temperature applications that involve the movement of hazardous, toxic, fine, corrosive, and/or aggressive liquids.
NSI, API Certified
10 – 5,000 GPM, 700 ft TDH, 750°F
316SS, Alloy 20, Hastelloy C, Inconel
Pulsafeeder's Eclipse Model
Pulsafeeder's Eclipse Model is a safe and reliable solution for liquids all over the pH scale, from acids to caustics to hydrogen peroxide, ammonia, petrochemicals, water, and more.
NSF/ANSI/CAN 61 Certified
.45 – 33 GPM, 450°F
Non-metallic (PVDF) or 316SS
Magnetically Driven ISOChem Gear Pumps
ISOChem gear pumps are known for their compact design and dependable performance. These pumps are ideal for handling clear lubricating and non-lubricating liquids as well as corrosive, hazardous, explosive, or toxic chemicals.
UL 1389 Certified
1.5 – 84 GPM, 365 ft TDH, -99°F to 450°F
316 Stainless, Alloy 20, Hastelloy C
Magnetically Driven Seal-Less Pumps for Industrial Applications
Seal-less pumps with magnetic drives offer safe, leak-free and low maintenance pumping solutions for plant engineers, operators and a variety of industries. In addition to their efficient, cost-effective design, seal-less magnetic drive pumps are safer than standard centrifugal pumps and require little to no monitoring or maintenance. Frequent uses for mag drive seal-less pumps include but are not limited to:
Biofuel Distillation
Mining
Laboratory Uses
Contact Us Today To Discuss Your Industrial Mag Drive Sealless Pump Needs
Flo-Line Technology also offers a full line of industrial pumps from leading brands and complete pumping services. Contact us today to request a quote or speak to an experienced staff member.