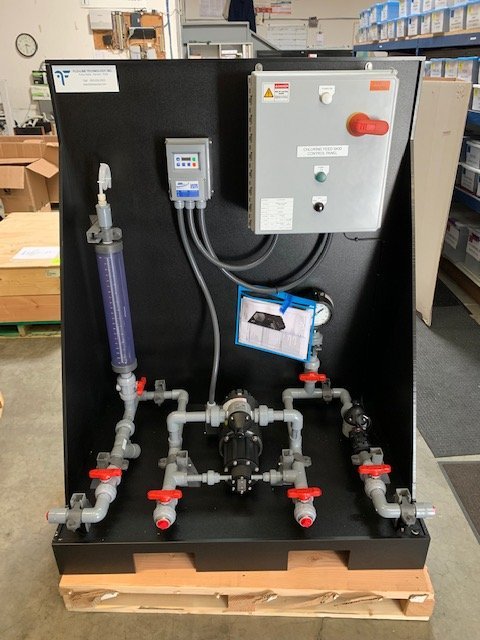 Chemical Injection Pumps
Chemical injection pumps, also known as chemical metering pumps, provide reliable, repeatable, and calibrated injections for applications that require the delivery of one or multiple chemicals through a pumping system. Chemical injection pumps are designed to operate at a diverse range of pressure requirements, making them ideal for a variety of applications, including oil and gas, food and beverage, water treatment, cannabis extraction, and more.
Flo-Line carries a full-line of accurate and adjustable chemical injection pumps from leading manufacturers. Our ISO 9001 certified chemical injection pumps are capable of handling the most demanding pumping requirements. Request a quote today on our selection of chemical transfer pumps or contact an expert for more information.
Chemical Metering Pumps for The Most Demanding Applications
Flo-Line Technology's comprehensive selection of chemical pumps are designed to exceed your most demanding chemical pumping requirements. Our selection of chemical injection pumps includes but is not limited to:
A range of materials, including ETFE, PVDF, stainless steel, Hastelloy C, and more
FDA & UL approved models for hygienic chemical dosing applications
Options for chemical pumping in low contact or low maintenance applications
Self-priming models with dry-run capabilities
Electronic metering and dosing pumps
Metering & transfer pumps for extraction of CBD oil
Chemical Transfer Pumps from Leading Manufacturers
Chemical metering pumps are used to transfer high volumes of chemicals at consistent and precise rates. Flo-Line Technology supplies a range of chemical pump models for all types of chemical applications.

Pulsafeeder Eclipse Gear Pumps
Pulsafeeder mag drive gear pumps are designed to prevent leakage of hazardous materials
0.1-32GPM, 150PSI, 150°F
Non-metallic (PVDF) & stainless steel
Sodium hypo and chemical metering & CBD oil extraction

Pulsa & Pulsapro Diaphragm Pumps
Pulsa & Pulsapro diaphragm pumps provide safe, remote, and accurate dosing of chemicals in a variety of applications
0.18-170 GPH, 4,000 PSI, 230°F
Non-metallic and various alloys
Chemical & petrochemicals, oil & gas, water & wastewater treatment, power generation

Netzsch Mini Metering Pumps
PD Progressive Cavity Pumps
Up to 160gph and pressures up to 180 psi.
Various Metals & Plastics, FDA & UL
Chemicals, Inks, Resins, Sludges
Air Operated Diaphragm Pumps
1 - 214 GPM, 463 ft TDH, 350°F
Various Metals & Plastics, FDA & UL
Yamada Air Operated Double Diaphragm Pumps
Air Operated Diaphragm Pumps
1 - 214 GPM, 463 ft TDH, 350°F
Various Metals & Plastics, FDA & UL
Chemicals, Inks, Resins, Sludges
Chemical Metering Pumps for Any Industry
It's important to ensure the pressure and composition of your chemical metering pumps can meet the demands of your specific application. Chemical pumps are designed to safely transfer sensitive materials across a variety of industries, including:
Manufacturing
Textiles & More
Flo-Line is Your Source for High Quality Chemical Injection Pumps & Dosing Pumps
No matter what industry you serve, Flo-Line Technology can provide you with a solution for your pumping needs. We work with leading manufacturers to offer a range of chemical injection pumps, electronic metering pumps, chemical dosing pumps, and more. Pumps can be customized to suit your application requirements. Contact us for more information or request a quote today.