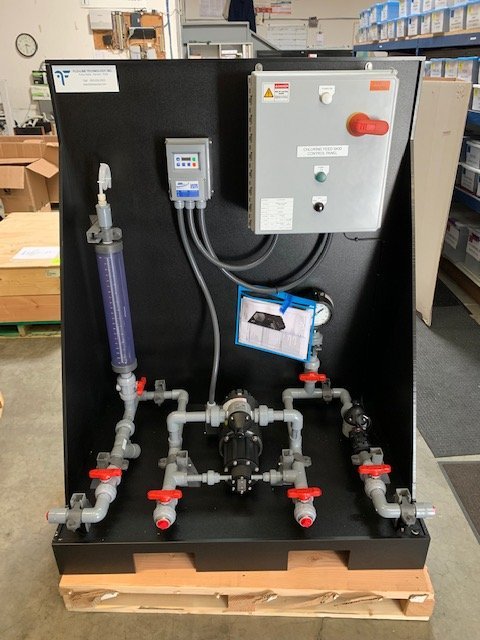 Chemical Injection Pumps
Chemical injection/metering pumps provide reliable, repeatable and calibrated injections for processes in which one more multiple chemicals need to be delivered through a pumping system. Flo-Line Technology carries a full line of accurate and adjustable chemical injection pumps from leading manufacturers. Our ISO 9001-certified chemical injection pumps are capable of handling a wide range of applications.
Contact a Flo-Line
 expert for more information regarding our selection of chemical injection pumps.  
Chemical Transfer Pumps
Chemical transfer pumps are used to transfer high volumes of chemicals in such applications as rail cars.  Flo-Line Technology offers a full line of pumps to handle any chemicals. 
Chemical Pumps - Top Models
Mag Drive Sealless Gear Pumps
0.1–32GPM, 150PSI, 150°F
Non-Metallic (PVDF) & Stainless Steel
Sodium Hypo & Chemical Metering
Hydraulic, Mech. Diaphragm Pump
.018-170 GPH, 4000 PSI, 230°F
Non-Metallic and various alloys
Chemical Metering
Mag Drive Sealless ANSI Pumps
10-1400 GPM, 500 ft TDH, 250°F
Non-Metallic (ETFE, PFA)
Caustic, Acids, Solvents
Mag Drive Sealless ANSI, API Pumps
10-5,000 GPM, 700 ft TDH, 750°F
316SS, Alloy 20, Hastelloy C, Inconel
Aggressive Chemicals, High Temp
Chemical Pump Industries
It is important that the pressure and composition of your chemical metering pumps can meet the demands of your specific application. Chemical pumps are designed to safely transfer sensitive materials across a variety of industries, including:
Manufacturing
Textiles & More
Chemical Pump Benefits
Flo-Line Technology's comprehensive selection of chemical pumps are designed to exceed your most demanding chemical pumping requirements. Our chemical metering, transfer and dosing pumps have an extensive array of materials available, including but not limited to ETFE, PVDF, Stainless Steel, Hastelloy C, and many others, to handle any and all chemicals. Flo-Line offers FDA and UL-approved models for hygienic chemical dosing applications. Sealless chemical pumps are available for chemical pumping in low-contact or low-maintenance applications. Chemical injection pumps can be self-priming and can have dry-run capabilities. Electronic metering and dosing pumps are also available.
Contact Flo-Line Technology