Chemical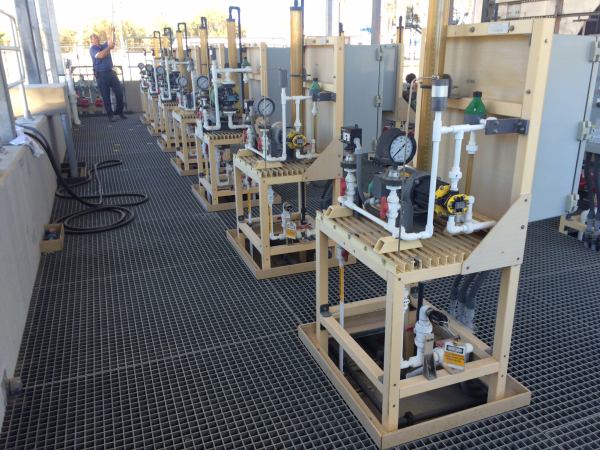 Chemical injection pumps, such as solenoid metering pumps, provide reliable, high-pressure pumping and calibrated injections for manufacturing processes in which one more multiple chemicals need to be delivered through a pumping system. Flo-Line Technology carries a full line of accurate and adjustable chemical injection pumps from leading manufacturers. Our ISO 9001-certified chemical injection pumps are capable of handling a range of chemical transfer applications ranging from common to more challenging chemical transfer.
Contact a Flo-Line expert for more information regarding our selection of chemical injection pumps.
Chemical Injection Pumps Top Models
Each OEM chemical injection pump offers unique advantages that vary depending on your specific application. Flo-Line Technology is proud to partner with the leading municipal pump manufacturers, including Sulzer, Waukesha and more. Browse our popular municipal chemical injection pumps below or contact a representative for assistance in determining which pump is best suited for you.
Chemical Injection Pumps Industries
It is important that the pressure and composition of your chemical metering pumps can meet the demands of your specific application. Chemical injection pumps are designed to safely transfer sensitive materials across a variety of industries, including:
Rubber & Plastic
Semiconductor
Pulp & Paper
Pharmaceutical
Textiles & More
Chemical Injection Pumps Benefits
Flo-Line Technology's comprehensive selection of municipal chemical injection pumps are designed to exceed your most demanding chemical pumping requirements. Our chemical metering, process and dosing pumps have a Hastelloy, Inconel, and stainless-steel composition to handle more abrasive chemicals. Flo-Line offers FDA and UL-approved models for hygienic chemical dosing applications. Sealless chemical pumps are available for chemical pumping in low-contact or low-maintenance applications. Chemical injection pumps can be self-priming and can have dry-run capabilities. Electronic metering and dosing pumps are also available.
Contact Flo-Line Technology
Request a quote on municipal pumps to meet your application needs, or contact Flo-Line Technology for more information.